Our passion for native sea vegetables and our commitment to the ecology has made ALGAMAR (founded in 1996) a pioneering company specialising in Atlantic sea vegetables for human consumption. For the past 25 years we have dedicated all our enthusiasm and efforts to normalising the consumption of sea vegetables as part of a healthy, balanced diet.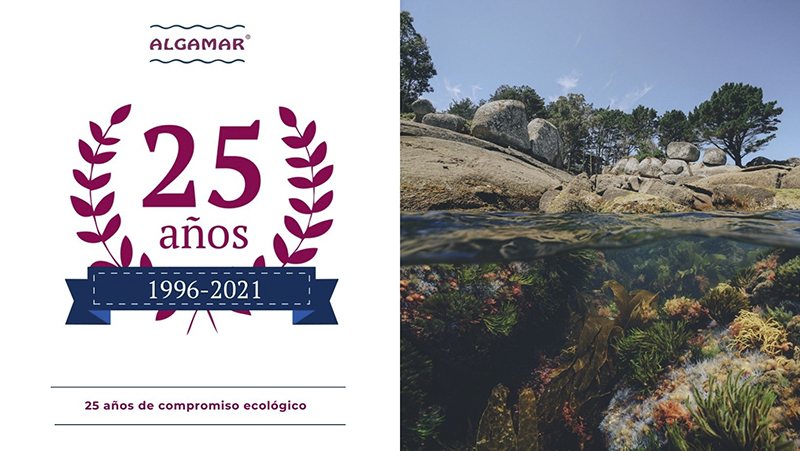 We have always been very interested in research into sea vegetables and cooperate with the Higher Council for Scientific Research, the Complutense University of Madrid and the Universities of Santiago de Compostela, Vigo and Coruña, among others.
Our efforts to spread the word about the properties of sea vegetables have led us to offer a wide variety of products ranging from dehydrated sea vegetables to ready-to-eat processed products. We have remained faithful to our goal of offering healthy 100% plant-based, vegan, organic food products. For this reason, ALGAMAR does not use animal or dairy products, eggs or flavour enhancers.
Over these 25 years, we have taken different steps in our ecological coherence, starting with the sustainable harvesting of the prime materials, the installation of solar energy with high-efficiency photovoltaic panels and the use of biomass boilers. We also print all our books, catalogues and brochures on FSC certified eco-friendly paper and most recently we have introduced new biodegradable and compostable 'plastic free' packaging.
As harvesters of wild edible sea vegetables, ALGAMAR has a "Sea Vegetable Collection Plan" approved by the Fisheries Authority and published annually in the Official Gazette of Galicia (DOGA). This plan guarantees that the resources extracted from the sea are renewable and maintain the equilibrium of the ecosystem. The sea vegetables are harvested by hand from the rocks and usually under the water, selecting and cutting the adult plants at their optimum moment of development, just before they wilt.
25 Years of Ecological Coherence
1996. The Origin
The brothers Clemente and Fermín Fernández Sáa founded ALGAMAR, a company and an activity without precedent in Spain. This vocation for sea vegetables was linked to their aim of rigorously disseminating the scientific information regarding the healthy, culinary properties of edible sea vegetables that was beginning to emerge.
2002. R&D
Studies, contacts and cooperation with nutrition specialists and scientists from different Spanish and European universities and research centres have all contributed decisively to this.
In parallel to the presentation of various types of sea vegetables for consumption, an important dissemination work continues. This includes two books that are references in the edible sea vegetables sector: "Sea Vegetables from Galicia, Food and Health" and "Recipes with Atlantic Sea Vegetables". Innovation is an essential pillar in every step taken by ALGAMAR.
2009. Biodiversity Award
The Ministry of the Environment and Rural and Marine Affairs awarded ALGAMAR the Biodiversity Entrepreneurs Award 2009 in recognition of its work and its status as a model of innovation and solidity in the respectful management of natural resources.
2010. Ecological Certification
In a first for the entire organic sector, ALGAMAR's sea vegetables received the European ECOLOGICAL CERTIFICATION under the new European Commission Regulation (EC) 710/2009 that entered into force on 1 July 2010.
2013. Expansion
ALGAMAR became a benchmark company in the BIO Channel in Europe. That same year it was recognised by the Félix Rodríguez de la Fuente Foundation as an EXEMPLARY EXPERIENCE.
2014. More Recognitions
ALGAMAR was selected as one of the LEADING COMPANIES OF THE GREEN ECONOMY WORLDWIDE. The news was published by the Ministry of Agriculture, Food and the Environment and by the Biodiversity Foundation.
2015. Ecological Commitment
In keeping with the values of respect and sustainability, ALGAMAR opts for local resources and energy sovereignty. It introduced biomass boilers and solar panels into its plants to generate clean energy and reduce their impact on the environment.
2016. Good Business Practices
In 2016 and 2018, the State Delegation in the Vigo Free Trade Zone Consortium awarded ALGAMAR the Ardán Award for Good Business Practices. This recognition assesses the fulfilment of several criteria: income growth, profitability, productivity and liquidity.
2019. Neurofoods
One of the examples of innovative research is the Neurofoods Project for the creation of functional foods and food supplements that help with neurocognitive development. ALGAMAR participates in collaboration with the University of Vigo.
…
.and on we go!
Thanks to all of you who have accompanied and placed your trust in us on this journey!