New! Red Pesto with Nori and Hummus with Wakame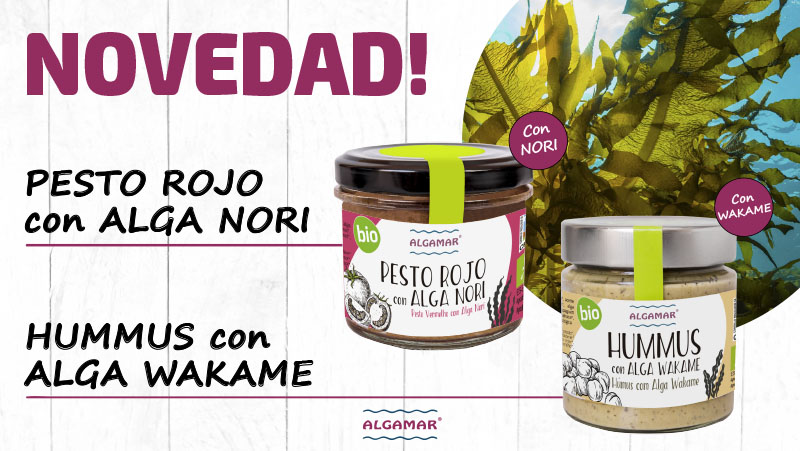 At Algamar we love to innovate and offer delicious, healthy alternatives for snack time, such as red pesto with nori and hummus with wakame, both unique taste experiences. Two delicious new spreads with healthy ingredients and extra flavour thanks to the added sea vegetables. In practical glass jars, they are an exciting addition add to our range of pâtés and vegetable spreads. With these two new Algamar products you'll be able to prepare simple but tasty and nutritious dishes, all in record time!
Red pesto is a very popular recipe in Italian cuisine, although it's not that well known in Spain. It's a version of the famous basil pesto in which, as the name suggests, dehydrated tomato is one of the main ingredients. On the other hand, in recent years hummus or chickpea spread has become a staple on our tables, especially as a dip, and an original way to enjoy all the properties of these delicious legumes.
Red pesto with Nori is ideal for preparing tasty canapes or spreading on toast. It can also be a delicious addition to pasta or to spread on the base of a homemade pizza. Algamar's red pesto is a highly versatile ingredient to have in the kitchen.
Nori is a sea vegetable with an intensive flavour and many beneficial properties. It is much valued for its high protein content and is also rich in amino acids and pro-vitamins A and B12.
Algamar's red pesto contains rehydrated dried tomato*, nori sea vegetable*, sunflower oil*, water, sunflower seed*, basil*, extra virgin olive oil*, yeast*, sea salt, cider vinegar* and garlic*. *Organic production. The result is a product that is very low in fat and rich in nutrients.
This chickpea spread has a slight taste of the sea thanks to the organic wakame among its ingredients, an original way to liven up this ancient recipe with sea vegetables. Algamar's hummus with wakame has a fine, smooth flavour. It's a delicious dip for bread sticks or Algamar's sea vegetable appetisers, perhaps the most popular way to enjoy hummus. Other tasty uses are as a spread on toast, a garnish for fish, a sauce for hamburgers, etc.
The wakame gives it an irresistible flavour as well as exceptional nutritional value. The most striking fact is that it is the Atlantic sea vegetable with the highest amount of calcium – 11 times more than milk! Wakame is also a source of essential amino acids, including iodine.
This hummus contains rehydrated chickpea flour*, extra virgin olive oil*, sesame*, wakame sea vegetable*, apple cider vinegar*, garlic*, sea spaghetti*, salt, cumin*, black pepper*, basil*, thyme* , oregano* and celery*. *Organic production.