New Algamar packaging in compostable bags
Algamar's new packaging in plastic-free compostable bags is a decisive step in our ecological commitment. This new environmentally friendly format joins our other strategies, such as the sustainable harvesting of raw materials, high-efficiency photovoltaic panels and biomass boilers.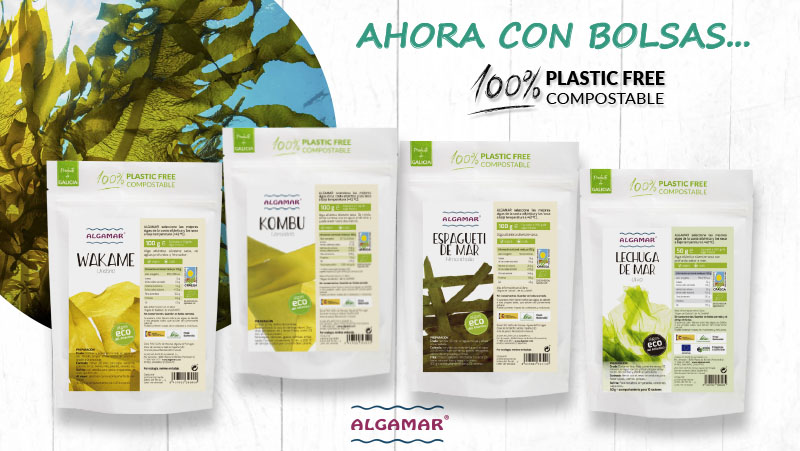 Since our beginnings as pioneers in sea vegetables for human consumption we have been guided by our passion for the sea. The struggle against climate change and our respect for nature have led us to prioritise among Algamar's objectives a firm commitment to reduce the impact of our activity throughout the whole production process, from harvesting the sea vegetables to their presentation.
The impact of plastic continues to be a global problem. In fact, millions of plastic bags end up in our oceans every year. Containers made with ecological raw materials that are 100% biodegradable and compostable offer a solution to this problem.
These "plastic free" bags are manufactured with PLA or polylactic acid, a bioplastic manufactured from corn starch that makes it possible to put an end to conventional plastic. This packaging allows Algamar products to be presented in sturdy bags. Compostable packaging's characteristics make it ideal for preserving algae. It is a truly appropriate packaging guaranteed to preserve all the properties of sea vegetables.
Since these bags are 100% biodegradable and 100% compostable, you can recycle them in a composting system. Algamar's "plastic free" bags decompose naturally in 180 days without leaving residues or toxins. This is very important when you consider that traditional plastic bags, which are made with petroleum, take up to a thousand years to disappear from the planet.
Algamar's new packaging in compostable bags can be transformed into fertiliser, an alternative that allows us to take greater care of our planet and continue to be a company in continuous innovation.