NEW! Pea Pasta with Sea Vegetables
Good news for spaghetti lovers! We've just introduced our new pea pasta with sea vegetables! You're going to love its flavour, ingredients and ease of preparation. It has everything you need to succeed in the kitchen.
Peas are a legume with many properties. They are an excellent source of vegetable protein, vitamins and minerals. Without a doubt, this type of pasta is an excellent alternative to traditional pasta made from wheat or other cereals.
ALGAMAR's pea pasta with sea vegetables is made with 100% pea flour and sea vegetables, both organically produced. That means it is gluten-free, suitable for a coeliac diet and totally vegan. This spaghetti is a really healthy, natural product made with 100% plant-based ingredients and no animal products, dairy or eggs.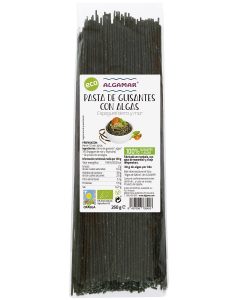 PEA PASTA WITH SEA VEGETABLES – 250 GRAMS
This pea spaghetti combines the best of the land and sea, including two very high value sea vegetables, sea spaghetti and spirulina
Sea spaghetti

is the richest sea vegetable in

iron

and

Vitamin C

Spirulina

is a natural blue-green microalgae that stands out for its high

protein

content.
This new pea pasta with sea vegetables is made in the mountains with spring water and at a low temperature. It is a truly healthy, natural product and an excellent addition to the ALGAMAR range of pastas.