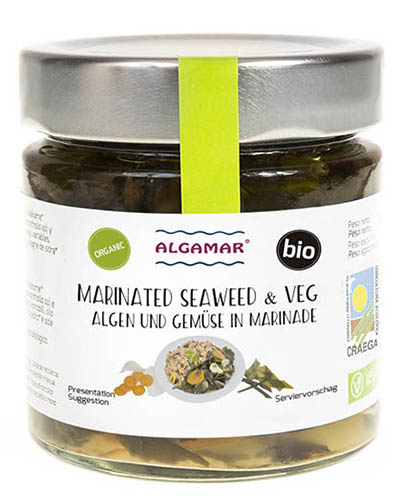 Marinated Seaweed and Vegetables / 160g
Sea spaghetti, Wakame and Kombu seaweed with Vegetable. With olive oil and apple vinegar. Without salt.
Mix of Seaweeds (44,4%) Wakame* (Undaria sp), Sea Spaghetti* (Himanthalia sp) and Kombu* (Laminaria sp) in variable proportions, extra virgin olive oil* (24,7%), apple cider vinegar*, onion*, carrot* and spices (garlic*, black pepper*,bay leaf*). *From organic farming.
How can we consume it?
Ready to eat: Ideal as a garnish and with salads, sandwiches, toast, vegetables, potatoes, pasta, rice, tofu, seitan, etc.